Let's Fight, Ghost
Drama − Ssawooja Gwishina
Writer − Im In seu (original comic), Lee Dae il
Genre − Horror, Comedy, Mystery, Romance, Action
Network − tvN
Episodes − 16
Release Date − July - Aug, 2016
Cinderella − No
CAST
Kim Sang ho TaecYeon Kim So hyun Kwon Yool
PLOT
Hyun Ji (Kim So hyun) studied for most her life before she died at the age of 19. She is now a ghost and has wandered around the world for several years. She meets exorcist Park Bong pal (Taec Yeon) and the two team up to hunt the variety of ghosts haunting places and people. sometimes listen to their stories, and send them to the otherworld. ~AsiaWiki (w/edits)
REVIEW
The 3.5 stars are for concept and acting, but the drama itself left something to be desired.
I believe in ghosts and love a good ghost tale, so had there been more ghost chasing and less over-dramatization of plot that was more run-around than lead-in, this could have been brilliant.
This is YA fluff at its finest, but with an embedded mature content theme that didn't mesh as well as the production team may have wanted.
A lot like reading the synopsis of a novel that sounds REALLY intriguing, yet when you start to read the story, the grammar issues, one-dimensional characters, and an underdeveloped plot make it a real let-down.
The tension build-up of the antagonist went on too long and repeated itself too many times until I became bored.
Wanting or needing to know why something is happening on a continuous basis grows stronger by the episode, and when you're left hanging for too long, it becomes insipid.
So, this would have been blockbuster material had the director decided to sub-plot with a ghost hunt per episode while also teasing with
glimpses
of what is to come regarding the main focus.
And then, when the climax finally did arrive, I was left to feel extremely sorry for Kwon Yool's Joo Hye sung once that truth is revealed.
I didn't buy the shrug-it-off notion that regardless of circumstances (including demonic possession) you are ultimately responsible for your actions because that's how society sees it.
Sometimes it was easy to suspend belief w/regard to the way the ghosts were dealt with and other times it was just too much WTF for me to ignore.
I got that 'killing' the 'dead' was a big part of the story line, so there was that -- but choking a ghost to death was something I just couldn't let myself admit to as being plausible.
Sorry, but animals have a keener sense of spirit than we humans, so to give the possessed antagonist a veterinarian position was just stupid.
Ain't not dog alive gonna let a demon get anywhere near it.
Also, I'm still trying to figure out how anyone with a medical degree would blithely assign an ANIMAL DOCTOR as therapist for a human coma patient.
Jung mal yo?
No second-lead syndrome here.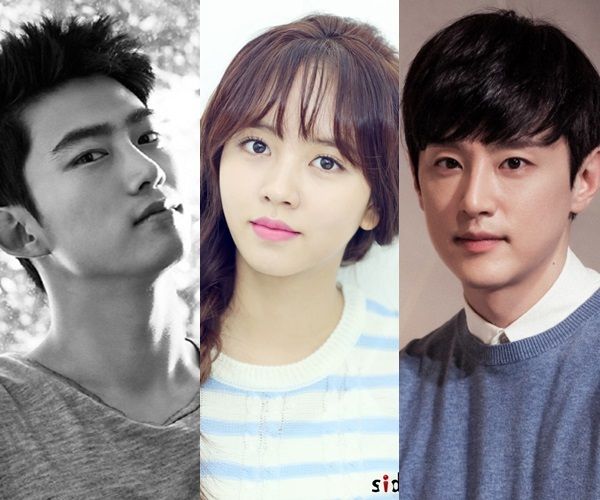 And, the leads were both cute respectively, but not so much as a couple.
She's cute schoolgirl, and he's alpha -- which never computes in my head -- along with the obviously vast age difference to make it feel
just
this side of creepy.
It appeared more like daehan oppa and yeodongsaeng (to me).
Awkward!
I really enjoyed the silly banter and slapstick that occurred between Kang Ki young's Choi Chun sang and
David Lee's Kim In rang.
And
every episode that included a ghost chase story.
I've seen him act before, but this time Taec Yeon's performance felt stiff and like he wasn't all that interested.
This isn't the worst thing I've seen this year, but all of the hype that surrounded it went way over my head because after 16 episodes, I'm still not sure why this was such a hit.
Well, okay, so there's Taec Yeon -- who may or may not have felt a bit under the weather much of the time?
I'm sure anyone under the age of 21 will think I'm crazy.